Programs for Organizations
Build your executive confidence and capability with a Columbia Business School Executive Education high-impact custom program.
At Columbia Business School Executive Education, we develop innovative, highly-effective and engaging custom programs that are grounded in world-class thought leadership and research while also profoundly company-specific, experiential, and pragmatic.
Our custom programs are designed to trigger rich debate and dialogue amongst your executives as they acquire the knowledge, skills, and tools to help them drive success for your organization both immediately and in the future. Many organizations are experiencing significant digital and business transformations and Columbia Business Executive Education will be a dynamic and inspiring partner as you also transform and evolve your people.
We'll help you design the best course of action for you and your team.
Every custom program Columbia Business Executive Education develops is unique. We engage with key stakeholders during the design phase and together, with you, determine the optimum mix of content and delivery formats (i.e. in-person, live online, or asynchronous) to build a carefully crafted and powerful learning experience for your executives.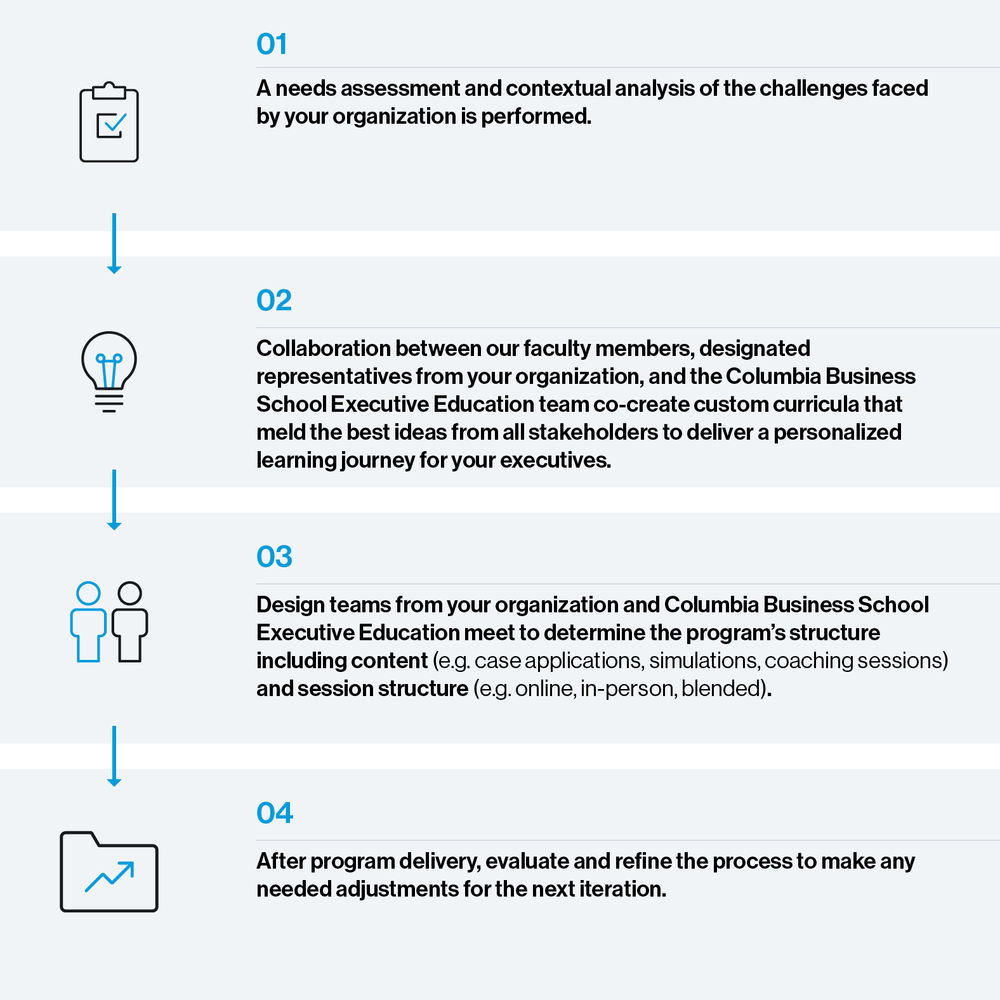 As you would expect, we have a very broad range of learning approaches and tools to draw from and are accomplished at integrating group work, executive coaching, action learning projects, panel discussions, networking elements, and more into our programs. With our deeply embedded New York City roots, the pace, energy, and diversity of both Columbia University and New York's eco-systems are infused into our custom program experiences.
For programs with in-person modules, executives are often inspired by our impressive Manhattanville campus where there are dedicated executive education facilities. We've also developed custom programs for organizations all around the globe based on what's the right location for the program and the organization.
Reach out to us to discuss your current and future initiatives and the transformative results you would like to see your executives achieve. We welcome the opportunity to partner with you as you take your people and your organization to new heights.
Our Portfolio of Programs
"I've managed many employees who have gone through the programs and the changes I've seen in how they perform as leaders once they emerge from a program is profound. There's a marked difference in how they approach leadership, how they approach their management, and their style of leadership. You can clearly see it—the impact is observable."

Kimberly Hardy Watson
Chief Operating Officer at Graham Windham
"The change in format from in-person to fully virtual this year was seamless. The Columbia Business School faculty were creative and innovative. Although the learning platform was completely different than prior years, there was no change in participant engagement. In fact, all of our attending physicians were impressed and are excited to continue with the upcoming modules, whether virtual or in-person. We look forward to continuing to work with Columbia Business School."

Alia Koch
Program Director at New York-Presbyterian Hospital/Columbia University Medical Center
"We chose the Columbia program for its ability to develop one's leadership skills and one's voice, to overcome the underlying bias. <The program's> been magnificent. Columbia's been magnificent. The participants have been over the moon."

Barkley Stuart
Former chairman of the WSWA, and current Executive Vice President of Southern Glazer's Wine & Spirits
"The program was 'a completely different experience' from initial expectations. 'Much more powerful and transformative."

Andrew McLeod
Former general manager of Powerco and current CEO of Northpower
"We are proud of Operative's unique and dominant position in the market, the ever-strengthening leadership team, and our unrivaled career opportunities—all of which in many ways are linked to Columbia."

Lorne Brown
Founder and CEO of Operative
Operative
Learn how Columbia Business School helped Operative foster leadership capabilities across teams of technical experts for continuing rapid growth.
Southern Glazer's Wine & Spirits
Learn how Columbia Business School helped Southern Glazer's Wine & Spirits develop a leadership pipeline for women in a male-dominated industry.
NewYork-Presbyterian
Find out how Columbia Business School helped a world-class hospital system build a leadership pipeline critical to patient-centered healthcare.
Powerco
See how this New Zealand utility company leveraged the intellectual power of Columbia Business School to develop top leadership skills and new mindsets for a changing industry.
Graham Windham
Read how Columbia Business School empowers leaders at the nonprofit Graham Windham so they can help young New Yorkers and their families thrive.