Chief Executive Officer Program: Leadership in an Evolving World
Chief Executive Officer Program: Leadership in an Evolving World
---
Leadership in an Era of Change
In an era of constant change, ambitious executives aspiring to become chief executive officers (CEOs) must turn uncertainty into a pathway for personal and organizational growth. To successfully ascend to a CEO role, executives must be adaptable, constantly acquire cutting-edge skills, revise strategies, and lead with foresight. Inspiring teams, making critical decisions, and developing strategic vision are integral components that facilitate resilience and growth.
The Chief Executive Officer Program from Columbia Business School Executive Education is tailored to these ambitious executives, equipping them with the frameworks and strategies needed to navigate the volatile business world effectively. Over 8 to 12 months, participants will gain a comprehensive understanding of strategy, leadership, and data and technology, enabling them to design a future-ready enterprise and positioning them for success in the highest C-suite role.
Please contact our partners at Emeritus at columbia@emeritus.org, +1 315-982-5094, or +1 315-277-2746 for a personal conversation about this program and how it may benefit you.
Delivered in collaboration with

[1] of CEOs intend to invest in some form of artificial intelligence in the coming year.

91%

[2] of CEOs aim to reduce operating expenses amid the risk of inflation and economic downturn.

76%

[3] of CEOs plan to shift their investments to digital opportunities and divest in areas that face digital obsolescence.

70%
The Chief Executive Officer Program will enable you to:
Apply the principles and tools of strategic leadership, steering complex organizations confidently amid the turbulence of today's swiftly evolving business landscape
Develop a global perspective on strategic leadership by analyzing macroeconomic trends and cultural nuances to make informed, impactful decisions
Evaluate and apply the principles of sustainability, environmental responsibility, and stakeholder management to build enduring value that goes beyond the bottom line
Demonstrate effective communication, negotiation, and influence skills to build strong relationships with stakeholders and foster an inclusive, productive, and efficient workplace culture
Analyze and leverage data and technology to drive innovation and improve decision making across your organization
Develop an executive mindset and enhance self-awareness, resilience, and adaptability to navigate complex challenges and opportunities

"Leadership is not just a position but an ongoing journey of growth and impact. Cultivating the acumen required to steer your organization through an ever-evolving landscape is imperative. At Columbia Business School, we are empowering leaders to navigate the turbulence of modern business. The Chief Executive Officer Program melds cutting-edge insights with experiential learning to forge leaders adept in strategic thinking, innovation, and principled decision making. Our participants leave not only equipped to tackle today's challenges, but also inspired to shape the future with vision and integrity."
—William Duggan
Senior Lecturer in Business, Management Division; Faculty Director, Chief Executive Officer Program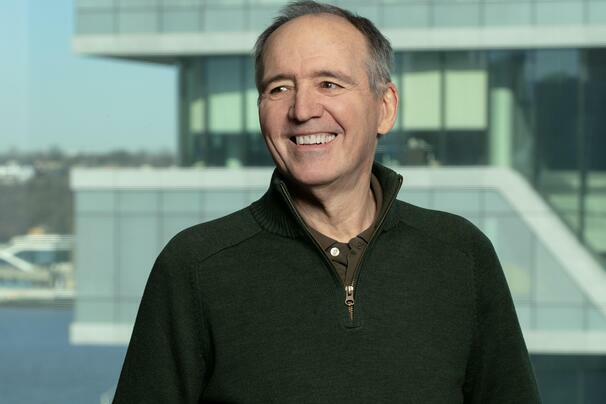 Designed for Success
The flexible format of the Chief Executive Officer Program enables participants to craft the program based on their career goals—with a world-class curriculum, experiential sessions, and the opportunity to meet with faculty and practitioners.

Be the architect of your own learning journey. Experience an adaptive journey that enables flexible learning, personal interactions, and deeper immersion into key topics—all at your own pace.
The Chief Executive Officer Program is a flexible learning journey designed for senior business leaders. You will learn through online and interactive sessions, fireside chats, and guest lectures led by Columbia Business School faculty and global industry leaders. Through a blend of cutting-edge curriculum, relevant case studies, capstone project, and try-it activities, the program will enable you to hone your business acumen, build new-age skills, and redefine your leadership potential.
Strategy: Your Company in the Wider World​
Unravel how external influences shape organizational direction and foster competitiveness, while gaining exposure to the complexities and potential of global business environments.
Module topics:
Macro-Economics for Executives: Good Times and Bad​
Strategy in an Ever-Changing World​​
Mergers and Acquisitions: From Competition to Co-Optation​​
Corporate Sustainability: Shareholders vs. Stakeholders​​
Environment, Society, and Governance: Non-Market Forces ​​
A World View: Learning from Everywhere​​

Organization: Inside Your Company​
Delve into the internal workings of an organization, unraveling intricate relationships and roles that shape company dynamics and drive operational efficiency.
Module topics:
The CEO's Boss: The Role of a Board​
The CEO's Boss: Board Committees​
The CFO's Voice: Your #1 Strategic Partner​
Marketing: Value Innovation​
Marketing: Customer Experience Management​
Innovation from Below​

Data and Technology​: The Leading Edge of Innovation​
Understand the transformative impact of data and technology on businesses and explore strategies for leveraging innovation for competitive advantage.
Module topics:
Business Analytics​
Frontiers of Innovation​
Segmentation and Targeting in a Data-Driven World​
Technology Strategy​
Frontiers of Innovation: Privacy-Preserving AI
Creative Combination: The Insight Matrix​
Leadership​: You and Your People​​
Examine the impact of leadership on team dynamics, workplace culture, and organizational effectiveness while evolving your personal leadership style.
Module topics:
The Future of Work​ ​
Alignment: Bridging Strategy and Performance
Leadership Analytics​​
DEI/Ethics/Integrity​​
Negotiation and Influence​​
The Executive Mind: Managing Yourself​​
Note: Session topics are subject to change.

Executive Peer Group and Networking Event
A key feature of the program is the executive peer group, which fosters intimate, confidential discussions among a select group of classmates. These conversations cover a range of pertinent topics—from business and leadership challenges to career opportunities. Throughout the program, participants form a cohesive learning community, gaining access to a robust global network of peers.
The enriching environment of the networking event provides participants with the invaluable opportunity to build a robust network with global executive who bring diverse experiences, cultures, and perspectives. Engaging in thoughtful discussions, they can exchange cutting-edge insights and knowledge that are integral in staying abreast of industry trends. The networking event showcases the vibrant community that participants of the Chief Executive Officer Program become an invaluable part of.

With Columbia Business School's Chief Executive Officer program, you will:
Balance learning with your busy work schedule by dedicating just three to five hours each week
Interact with high-achieving peer executives from around the globe and build your network of leaders
Kick-start your program journey with 24 weeks of core online learning, imparting new-age skills for the CEO role
Experience live online sessions with the cohort success coach and faculty as well as periodic guest lectures from industry leaders
Learn from preeminent Columbia faculty who are recognized leaders in their fields, thought leaders, and industry practitioners to gain in-depth insights
Work on a capstone project to refine your skills by applying program learnings to a challenge and drive immediate on-the-job impact in your organization
Craft your learning journey in line with your career goals with a success coach assigned to your cohort
Interact with faculty members, peers, and global industry leaders at a two-day optional on-campus networking event
Receive select Columbia Business School alumni benefits upon completion of the program

The Chief Executive Officer Program is ideal for:
Experienced C-suite executives poised for transition into the CEO role
Newly appointed CEOs from small to medium-sized entities intent on augmenting their leadership acumen
High-potential leaders on the trajectory toward C-suite roles seeking to enhance their readiness for impending executive responsibilities
Participants are required to have:
A minimum of 10 years of work experience
Fluency in written and spoken English
International exposure (preferred)

Sign up for program updates and content relevant to today's business leaders from Columbia Business School Executive Education.