How Can Business Analytics Help Executives Make Better Decisions?
"Big Data" means better business. It's been shown time and time again that organizations that are data-centric outperform those that are not. More and more business leaders are turning to data-driven decision-making to make better predictions, create a competitive advantage, improve business decisions, and increase value for their business. Business analytics and data analysis are critical skills for business professionals as the availability of broad and deep sources of information, "Big Data," becomes even more prevalent.
By understanding how to effectively sift through and analyze data, participants will be able to make more informed business decisions that allow them to successfully meet their business objectives while also uncovering and addressing any business challenges. In this six-week business analytics online program, participants will gain foundational insights and impactful tools for business analytics and data analysis so that they can:
Efficiently identify, evaluate, and capture business opportunities
Make better predictions and estimates
Create value for their business
Data-Driven Business Decisions Make a Big Difference
Effective business leaders know how data analysis can be used to overcome business challenges, find the best decision, and create rewarding opportunities.
With this business analytics program, participants will have an opportunity to:
Understand the fundamental concepts and quantitative analytical methods to think critically about data and the data analytics performed by or presented to their team
Practice the most common analytical methods and techniques in various industries and sectors to develop data-driven insights and support their business decisions
Feel empowered to identify and evaluate opportunities for creating value for their organization
Explore the strategies and challenges of implementing analytical approaches within their organization
Highly data-driven organizations are three times more likely to report significant improvement in decision-making. Source: Think with Google

3X

of top-tier data companies with a data culture that are meeting or exceeding their revenue targets. Source: Alation State of Data Culture Report

75%

of workers fully confident in their data literacy skills. Source: Forbes

21%
Mid- to senior-level professionals in marketing, operations, finance/accounting, sales, human resources, or customer service who want to understand how big data and data analysis (including marketing analysis, operations analytics, statistical analysis, and data visualization) can inform business decisions and affect change
Managers and team leaders who supervise business analysts and would like to gain an analytic mindset to more effectively communicate with their teams
Business professionals and entrepreneurs pursuing their next professional goals in business analytics including data analytics, marketing analytics, operations analytics, accounting analytics, and customer analytics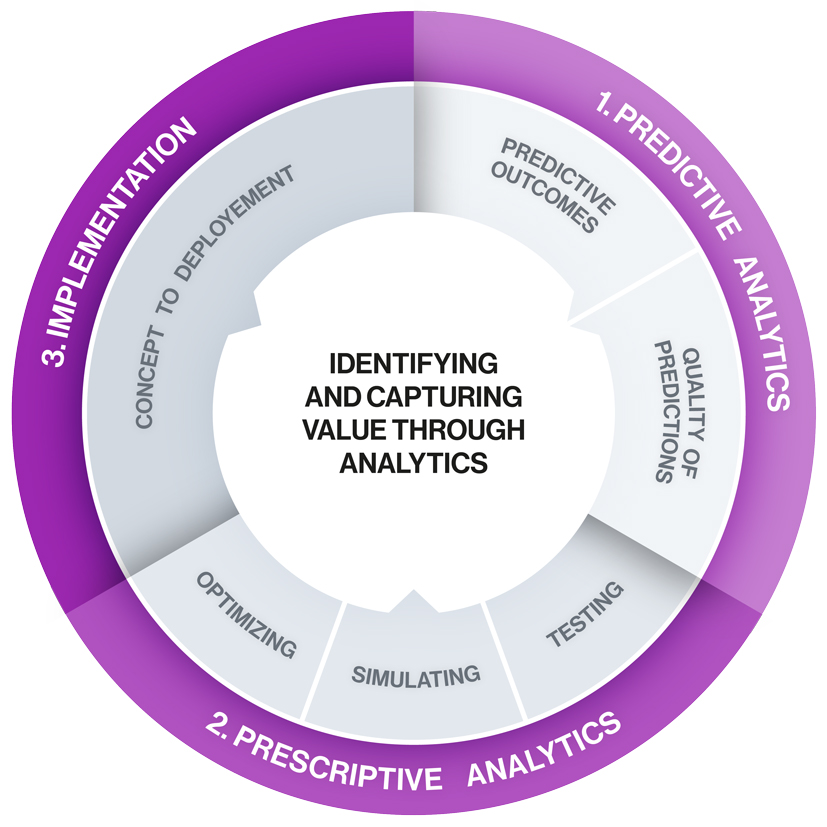 This asynchronous business analytics program was designed to introduce strategies to tackle business challenges in three main areas of data analysis:
1. Predictive Analytics
Learn the foundational elements of predictive business analytics; select topics include logistic regression, K-nearest neighbor, quality of predictions, and ROC. Discover how to predict a continuous outcome, a 0 or 1 outcome, the flaw of averages, the quality of fit, prediction errors, and future performance based on past performance.
2. Prescriptive Analytics
Take a deeper dive into prescriptive analytics decision-making including data analysis with a deterministic objective, multiple objectives, under uncertainty, and with an unclear link between decisions and impact. Get the data analysis tools needed for testing, simulating, and optimizing.
3. Implementation
Get a deeper understanding of structured decision-making from concept to deployment including decision support systems that remove biases in the system and reduce inefficiencies.
The program's robust content is organized into bite-sized lecture videos with case studies from varying industries, self-assessments, peer learning and virtual office hours. The estimated time commitment per week is 4-6 hours.
1. Introduction to Business Analytics
Introduces business analytics and its main levers that organizations use to capture value through it.
2. Leading Analytics
Review a common business analytics tool to leverage the data and for predicting outcomes: Logistic Regression.
Sign up for program updates and content relevant to today's business leaders from Columbia Business School Executive Education.