Columbia Management Essentials (Online)
Requirements
This program is designed for professionals who have recently taken on or aspire to move into a management role to help them develop leadership and decision-making capabilities.
Columbia Management Essentials (Online)
---
Columbia Management Essentials (Online) is a three-month online program that teaches the core pillars of management — leading teams, creating a customer-centric organization, and developing financial acumen.
The program enables participants to accelerate their impact through an intensive learning journey that will equip them to manage people, products, and projects more effectively. The key components of this MBA-inspired curriculum are:
Enhancing leadership effectiveness
Effective decision making
Influencing others
Customer-centric marketing
Developing financial intuition
Launching new products
Leading and managing teams
Building social capital
With a focus on immediate application, participants work on a capstone case study, individual and team assignments, cases, self assessments — including Columbia Business School's proprietary 360 Assessment Tool — and group discussions, applying their learnings immediately to their unique contexts.
Participants will also be part of a powerful learning community comprising a diverse group of fellow participants from a broad range of industries, functions, experiences, and geographies.
Please contact our partners at Emeritus at columbia@emeritus.org, +1 315-982-5094 or +1 315-277-2746 for a personal conversation to learn more.
Delivered in collaboration with

"To get ahead in today's business world and solve integrated, multi-faceted problems, leaders need to possess foundational business tools. At the end of this program, participants will be able to make decisions on business challenges that cut across different functions and geographies."
Gita Johar
Meyer Feldberg Professor of Business at Columbia Business School
You will emerge from Columbia Management Essentials (Online) with enhanced cross-functional skills and a sharpened leadership toolkit that will help you accelerate the impact on your organization.
At the end of the program, you will be able to:
Identify your strengths and weaknesses as a leader with the 360 Assessment Tool
Understand how different leadership styles affect performance
Make decisions in a more systematic way to optimize results
Influence others in a fair and ethical manner
Develop a customer-centric mindset and find the right product for the right market
Understand key financial concepts such as time value of money, net present value, and capital budgets for a stronger financial intuition
Build a healthy social network to support your professional goals
;
Upon completion of this program, you will earn two credits towards a Certificate with select alumni and tuition benefits. Learn more.
Duration: 12 Weeks
Time Commitment: 4–6 hours/week
This immersive program takes an integrated approach to learning, combining live and recorded lectures, small group assignments, case studies, role plays, and Columbia Business School's 360 Assessment Tool.
The Learning Journey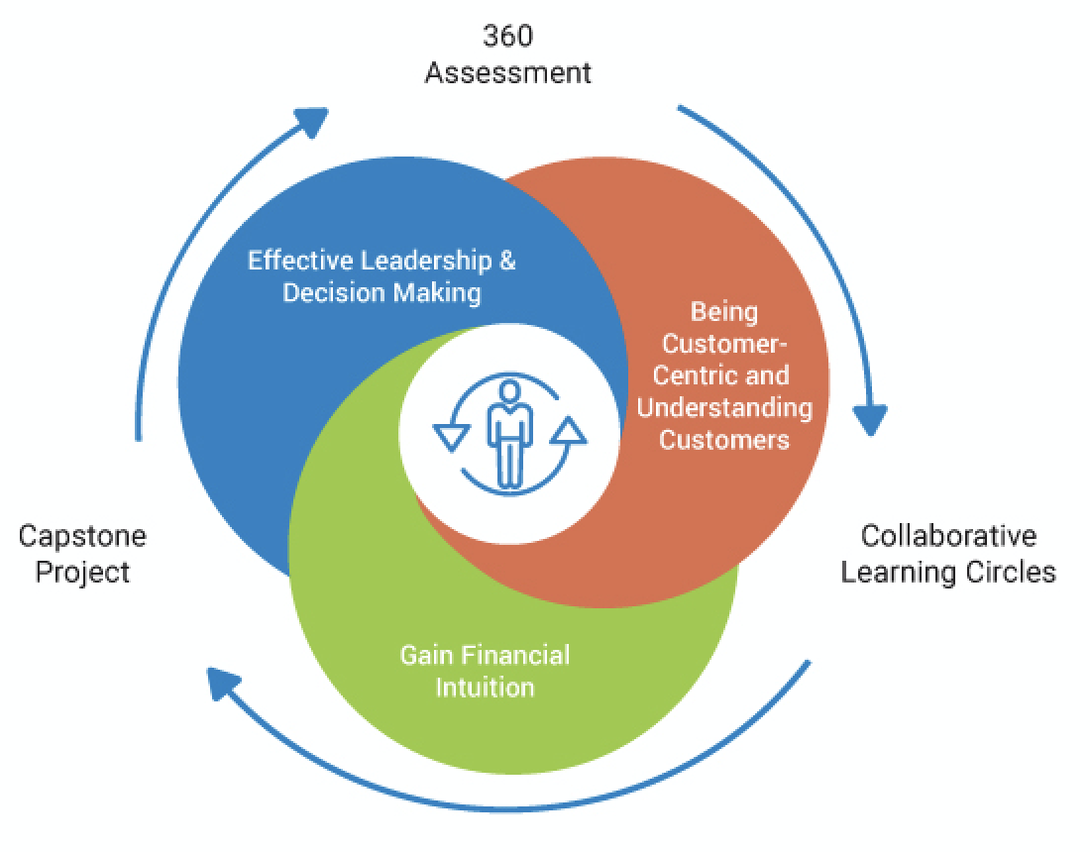 The program is comprised of the following modules:
"The leadership module was excellent. My favorite part was the 360 Assessment. I now know how I rank amongst my peers in this class and areas I need to improve on."

Kwansah Ndemo
Pharmacist at Career Staff Rx, from Dallas
"The best part for me were the lessons in how to use information effectively and the focus on teamwork and perspectives. I have applied some of the teachings at the workplace and have seen improvements in many aspects."

Omar Fajardo
VP of Affiliate Relations at The Mix Group, from Miami
"The leadership and social networking modules both completely changed my way to network and interact as a leader."

Ghazi Chebil
Head of Cluster Northwest Africa at SIG Combibloc Obeikan, from Tunisia
This program is designed for professionals who have recently taken on or aspire to move into a management role to help them develop leadership and decision-making capabilities. This includes existing managers and technical leaders who have been promoted to a role with management responsibility, executives who build and lead multi-functional teams, and entrepreneurs who need to expand their core business knowledge. Middle- and upper-level managers seeking a well-rounded, MBA-inspired management curriculum will also benefit from exposure to the latest marketing, finance, and leadership strategies taught by Columbia Business School faculty.
Meet Professor Johar in this video
Meet Professor Galinsky in this video
Hear from Professor Phillips in this video
More General Management Programs
Sign up for program updates and content relevant to today's business leaders from Columbia Business School Executive Education.